RHCB to Publish Debut Picture Book by Hilary Duff in March 2021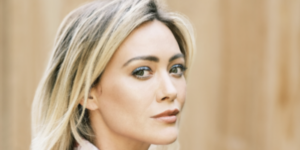 Random House Books for Young Readers, an imprint of Random House Children's Books, will publish a new picture book written by actress, singer, and mother Hilary Duff, MY LITTLE BRAVE GIRL, it was announced by Michelle Nagler, Vice President, Associate Publishing Director, with an exclusive feature on People.com. Inspired by Duff's own experience as a working mother, the book offers a beautiful and inspiring picture book about bravery and love. MY LITTLE BRAVE GIRL will release on March 23, 2021, with a first printing of 200,000 copies. Caroline Abbey, Editorial Director, acquired North American rights from Albert Lee at United Talent Agency LLC for MY LITTLE BRAVE GIRL and a second untitled picture book, and will edit the project.
The world is big, my little brave girl.
It's all here for you.
A poetic text encourages girls to reach higher, dream bigger, and approach the world with their hearts wide open. This love letter to little girls was inspired by Hilary Duff's own experience as a mother as she considered all the ways her daughter had to be brave even as an infant. With lush illustrations and an empowering message, MY LITTLE BRAVE GIRL is the perfect gift for baby showers, birthdays, Mother's Day, graduation, and any time a girl—or woman—is embarking on a new chapter of her life!
Says Duff, "I remember coming home from work around midnight, just in time for my daughter's dream feed. I hadn't smelled her all day, and it was the first week of a long four months of returning to work. Tired and emotional, I held my daughter and remembered the many ways I watched my mother be brave and was encouraged to do the same. I sat there in a well of emotion, realizing I was close to the end of my breastfeeding journey with my daughter and this was just one of the many ways I was going to watch her grow into a little brave girl. The book came to me that night, and I literally wrote it in a note on my phone, having no clue that it would turn into something that would be in the hands of families, sharing the same bittersweet experience. I'm so grateful for my publishers, who believed in my simple words, sparked by an authentically emotional night sitting in my cozy Brooklyn apartment. I had a strong vision of the brave girls and their adventures for this book, and I can't quite put into words how Kelsey Garrity-Riley brought the book to life with her tender and spirited illustrations. I hope this book makes a tough night for a parent seem a little less alone and inspires girls to get up, stand up, be loud, and reach as high as they can at any age."
"We're thrilled to be working with Hilary Duff on this beautiful book," says Abbey. "Her openness regarding the challenges and joys of being a parent is something many people relate to and connect with. My Little Brave Girl's empowering message is one that will resonate with parents and daughters of all ages."
Hilary Duff is an actress and singer who currently stars in the highly rated hit TV show Younger. She is widely known for her role as the titular star of Disney's hugely successful show Lizzie McGuire. Hilary is the chief brand officer for Happy Little Camper and Veeda and is dedicated to providing consumers with high-quality, natural, environmentally friendly products. She is the mother of a son, Luca, and a daughter, Banks.
Kelsey Garrity-Riley is an illustrator living and working in Bucks County, Pennsylvania. She grew up in Germany and Belgium and has a degree from the Savannah College of Art and Design. She has illustrated several books, including Other Wordly, Born to Ride: A Story About Bicycle Face, and You Are a Beautiful Beginning, as well as her debut as an author, Frankie's Favorite Food. She is the mother of a son, Llewyn.
Posted: September 24, 2020