RHCB's Random House Graphic Imprint Announces Inaugural Publishing List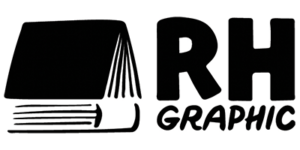 Random House Graphic (RHG), a new imprint dedicated to publishing graphic novels for kids and teens of every age and interest, fiction and nonfiction, will launch its first list in Spring 2020, it was announced by Gina Gagliano, Publishing Director, Random House Graphic. The list includes four titles of varied genres that span from young chapter books to YA, reflecting the rapidly growing popularity of the format among young readers.  This inaugural list announcement was made in coordination with the launch of the Random House Graphic website, now live at rhkidsgraphic.com.
Random House Graphic believes in the importance and power of comics storytelling, and the central place of visual literature in our world and culture today. The imprint's mission is to transform the childhood reading experience by making high-quality graphic novels accessible to every type of reader. The imprint is made up of a team of experts in the format, led by Director Gina Gagliano, who came to Random House from First Second Books, and includes Senior Editor Whitney Leopard, previously an Editor at BOOM! Studios, and Designer Patrick Crotty, Co-Founder of Peow. RHG also will have a dedicated Marketing and PR Manager, Nicole Valdez, joining the team in August.
The imprint's debut list includes two middle-grade graphic novels, THE RUNAWAY PRINCESS by Johan Troïanowski and ASTER AND THE ACCIDENTAL MAGIC by Thom Pico and Karensac; the young adult graphic novel WITCHLIGHT by Jessi Zabarsky; and the chapter book graphic novel BUG BOYS by Laura Knetzger. Following the publication of these first four titles, Random House Graphic will publish a contemporary middle-grade by Lucy Knisley, the critically acclaimed, award-winning New York Times bestselling comic creator of Relish and Kid Gloves. Inspired by Knisley's own childhood, STEPPING STONES follows a young girl forced to move with her mom from the city to a farm in the country, where she eventually gets a new stepfather and stepsisters. Publication is scheduled for May 2020.
"Random House Graphic is dedicated to publishing the best in kids and YA graphic novels," explains Gagliano. "It's an incredibly exciting time for the graphic novel medium—with more readers coming to these stories, and new groundbreaking books being published, the category is expanding by leaps and bounds. We can't wait to share our contributions to it with readers, booksellers, comic book sellers, educators, librarians, and everyone who loves books and comics."
THE RUNAWAY PRINCESS (on sale January 21, 2020) follows a young princess who finds her castle intolerably boring and runs away to find adventure, make friends, and learn more about the fantastical world around her.
BUG BOYS (on sale February 11, 2020) is a chapter book that follows two young bugs as they learn about friendship and the science of the world around them.
ASTER AND THE ACCIDENTAL MAGIC (on sale March 3, 2020) is an action-packed middle-grade adventure about a girl whose parents move their family to the middle of nowhere. Aster's new home seems far from exciting, until she figures out that the countryside might have some magic in it.
WITCHLIGHT (on sale April 14, 2020) is a queer YA fantasy romance, filled with friendship, family, falling in love, and dealing with the hardest bits of your past along the way.
Additional titles to be published by Random House Graphic in 2020 include Kerry and the Knight of the Forest by Andi Watson, Witches of Brooklyn by Sophie Escabasse, Séance Tea Party by Reimena Yee, Crabapple Trouble by Kaeti Vandorn, Donut Feed the Squirrels by Mika Song, The Magic Fish by Trung Le Nguyen, and Suncatcher by Jose Pimienta.
The RH Graphic program expands on the current list of acclaimed graphic novels published by Random House Children's Books, including series like Babymouse by Jennifer L. Holm and Matthew Holm; 5 Worlds by Mark Siegel and Alexis Siegel and illustrated by Xanthe Bouma, Matt Rockefeller, and Boya Sun; and Hilo by Judd Winick, as well as stand-alone titles including The Cardboard Kingdom by Chad Sell.
RH Graphic is an imprint of Random House Children's Books (rhcbooks.com), the world's largest English-language children's trade book publisher. Creating books for toddlers through young adult readers, in all formats from board books to activity books to picture books, novels, and nonfiction, the imprints of Random House Children's Books bring together award-winning authors and illustrators, world-famous franchise characters, and bring together award-winning authors and illustrators, world-famous franchise characters, and multimillion-copy series.
Visit Random House Graphic online at @RHKidsGraphic | rhkidsgraphic.com
Posted: July 18, 2019