RH's "Big Ideas Night: Criminal Justice Reform" to Feature Brittany K. Barnett, Emily Bazelon and Shaka Senghor via Zoom (10/21)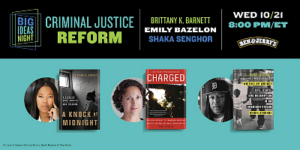 Random House Virtual Events presents Big Ideas Night: Criminal Justice Reform, a crucial and timely topic, with authors Brittany K. Barnett (A KNOCK AT MIDNIGHT), Emily Bazelon (CHARGED), and Shaka Senghor (WRITING MY WRONGS) on a virtual panel via Zoom on Wednesday October 21 at 8:00 pm (ET).
Between harrowing disparities in sentencing, mass incarceration, and an epidemic of overly powerful prosecutors, it's clear that America is in dire need of criminal justice reform. It's an issue we can't wait any longer to address, so we've called on those who have been working toward these goals for years to explain the problems at hand, what needs to be done, and how we can work together to do it.
Brittany K. Barnett is an attorney, entrepreneur, and author of A KNOCK AT MIDNIGHT; Emily Bazelon is a New York Times Magazine staff writer and author of CHARGED: The New Movement to Transform American Prosecution and End Mass Incarceration; and Shaka Senghor is a motivational speaker, member of Oprah's SuperSoul 100, and author of WRITING MY WRONGS: Life, Death, and Redemption in an American Prison.
This Big Ideas Night virtual event is presented with the support from Ben & Jerry's, a company unafraid to use their platforms to speak truth to power.
!! As a reminder, if you are posting to a personal or other non-PRH account you must include the hashtag #TeamPRH !!
Posted: October 19, 2020