RH's INVISIBLE CHILD Wins 2022 General Nonfiction Pulitzer; 3rd for Editor Medina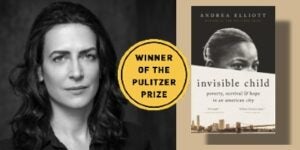 Excellent news from uptown Manhattan:
The century-long Penguin Random House Pulitzer Prize-winning tradition has resumed, after last year's pause, with the bestowal of this most prestigious U.S. Letters annual award to INVISIBLE CHILD by Andrea Elliott, published by Random House. This is the 133rd time a book published by present and past PRH imprints has been awarded the Pulitzer Prize. Another PRH title, HOME, LAND, SECURITY by Carla Power, published by One World, was named a Finalist in the same category, General Nonfiction.
General Nonfiction Winner:
INVISIBLE CHILD: Poverty, Survival, And Hope In An American City by Andrea Elliott (Random House HC & E-Book; Random House Trade PB; Random House Audio)
Edited by Kate Medina.
Pulitzer Citation: "An affecting, deeply reported account of a girl who comes of age during New York's homeless crisis—a portrait of resilience amid institutional failure that successfully merges literary narrative with policy analysis.
"Andrea Elliott's moving and beautiful book about Dasani's life tells a story whose relevance continues to this day," says Executive Vice President, Associate Publisher Kate Medina. "This important book about resilience, ingenuity, family, and the costs of inequality explores in a stunning way an answer to the question, 'What about the children?' "
This is Kate's third Pulitzer-winning author.
Previous:
AMAZING ADVENTURES OF KAVALIER AND CLAY by Michael Chabon (Fiction, 2001)
AMERICAN LION: Andrew Jackson in the White House by Jon Meacham (Biography, 2009).
Additionally, the Pulitzer judges recognized one of our titles as a Finalist.
General Nonfiction
HOME, LAND, SECURITY: Deradicalization And The Journey Back From Extremism by Carla Power (One World HC & E-book, Random House Audio)
Edited by One World's Chris Jackson.
Honored as: "an eye-opening global investigation into the deradicalization of violent extremists that impeccably balances empathy and skepticism."
This year's Fiction Pulitzer is awarded to a PRHPS client, New York Review Books, for Joshua Cohen's THE NETANYAHUS. Beacon Press, also a client, publishes Fiction Finalist PALMARES by Gayl Jones.
As observed before, our past Pulitzer winners are among some of American literature's most revered reading experiences, across two centuries: THE NICKEL BOYS by Colson Whitehead (Fiction, Doubleday, 2020); GHOST WARS by Steve Coll (General Nonfiction, Penguin Press, 2005); THE ROAD by Cormac McCarthy (Fiction, Knopf, 2006); THE GRAPES OF WRATH by John Steinbeck (Fiction, Viking, 1940); PROMISES: POEMS 1945-56 by Robert Penn Warren (Poetry, Random House, 1958); and THE MAGNIFICENT AMBERSONS by Booth Tarkington (Fiction, Doubleday, 1919)—to name but a half-dozen.
May our 2022 Pulitzer honoree also resonate over the decades ahead.
Click here for a complete list of Penguin Random House Pulitzer Prize winners, by category.
Long, loud Congratulations to our Random House, in particular, Kate Medina, Chris Jackson, One World, and PRHPS client colleagues, and our authors, most happily.
Posted: May 10, 2022