Riva Lehrer in Conversation with David Mitchell via ChicagoHumanities.org (10/30)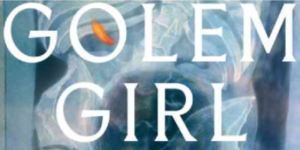 Riva Lehrer will discuss her book, GOLEM GIRL (One World), in conversation by author David Mitchell at a virtual event hosted by the Seminary Co-Op Bookstore via ChicagoHumanities.org on Friday, October 30 at 2:00 pm (ET).
Written with the vivid, cinematic prose of a visual artist, and the love and playfulness that defines all of Riva's work, GOLEM GIRL is an extraordinary story of tenacity and creativity. With the author's magnificent portraits featured throughout, this memoir invites us to stretch ourselves toward a world where bodies flow between all possible forms of what it is to be human.
Riva Lehrer is an artist, writer, and curator whose work focuses on issues of physical identity and the socially challenged body. She is best known for representations of people with impairments, and those whose sexuality or gender identity have long been stigmatized. A longtime faculty member of the School of the Art Institute of Chicago, Lehrer is currently an instructor in medical humanities at Northwestern University.
David Mitchell is the bestselling author of Slade House, The Bone Clocks, The Thousand Autumns of Jacob de Zoet, Black Swan Green, Cloud Atlas, number9dream, Ghostwritten, and his latest novel Utopia Avenue. Twice shortlisted for the Man Booker Prize, Mitchell was named one of the 100 most influential people in the world by Time Magazine in 2007.
!! As a reminder, if you are posting to a personal or other non-PRH account you must include the hashtag #TeamPRH !!
Posted: October 29, 2020