Riverhead and Read it Forward's Podcast "Marlon and Jake Read Dead People" Passes 75,000 Downloads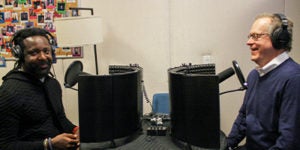 In January, we introduced the new Riverhead and Read it Forward podcast MARLON AND JAKE READ DEAD PEOPLE. Hosted by Man Booker Prize-winning and internationally bestselling author Marlon James and his editor, Jake Morrissey, the podcast features their no-holds-barred literary conversations about works by dead authors.
The "smart, funny, erudite, vulgar" podcast is only halfway through season 1 but already a viral sensation. Now with more than 75,000 downloads, the podcast has been topping Apple's charts, surging ahead this past weekend to rank higher than BBC World News and the TED Radio Hour, to name just a few. Listeners have been raving, with reviews like "One episode in and I'm hooked." "Needs to be daily, I am subscribing so I never miss an episode!" "Finally!! I feel like I've been waiting for a podcast like this forever!! Can't wait for more episodes to come!" and "Please record more episodes! PLEASE????"
You can subscribe to the podcast on iTunes, Spotify, or wherever you like to listen! Tune in to hear about the spectacularly good, the hilariously bad, and the brutally honest.
Posted: February 26, 2020