Riverhead Approach Focus of Art + Design Conference in Milan, Italy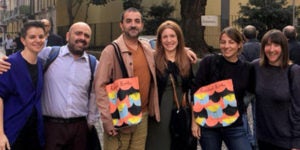 Can a book jacket design be so iconic and recognizable that it can have a life beyond the book itself? This was the question addressed at an art + design conference, October 19-20, in Milan, Italy by the Riverhead Art Director Helen Yentus and Riverhead Associate Publisher Jynne Dilling Martin. The Italian cultural foundation Mondadori partnered with Mimaster Illustrations to fly Helen and Jynne to Milan, where they spoke to professional illustrators, designers, editors and publishers about the unique Riverhead approach to design. They described how each jacket is created in a collaborative process with publicity and marketing, so it can be carried through a campaign and used across many platforms. The team asked if the design can become the visual "identity" for the book, even when stripped of its text. Helen (far left) and Jynne (far right) are pictured with the Mondadori and Mimaster Illustration executives.
"It was a career highlight to present our creative work in the design capital of the world," said Jynne Dilling Martin. "And the process of creating a two-day presentation about our work helped Helen and I better understand our own philosophy and evolution. We also walked away inspired by the work they presented back to us."
Helen and Jynne's Milan presentation was featured in the Italian newspapers La Repubblica and Corriere della Sera.
Posted: October 23, 2018