Riverhead Author Brandon Taylor is a Finalist for The Story Prize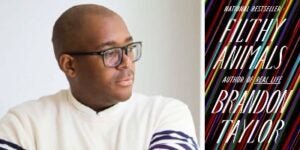 The Story Prize, which annually honors authors of outstanding short story collections released in the prior year, has announced its three finalists, including an author and book published by Penguin Random House: FILTHY ANIMALS by Brandon Taylor (Riverhead Books).
In a series of linked stories, set among young creatives in the American Midwest, FILTHY ANIMALS is a tender portrait of the fierce longing for intimacy, the lingering presence of pain, and the desire for love in a world that seems, more often than not, to withhold it.
The Story Prize, now in its 18th year, received 119 submissions representing 90 different publishers or imprints. A private live-streamed event on April 13 will feature readings by and interviews with each of the three finalists. There will then be an announcement of the winner, who will receive $20,000 and an engraved silver bowl. The two runners-up will each receive $5,000.
View the complete list of The Story Prize finalists here.
Posted: February 10, 2022