Riverhead Author Brandon Taylor Wins 2022 Story Prize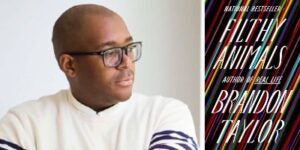 Riverhead author Brandon Taylor has won the 2022 Story Prize for FILTHY ANIMALS, a short story collection set among the lives of young creatives in the Midwest, it was announced on April 13 during a private, live-streamed event.
The Story Prize judges offered high praise: "Taylor is incredibly attuned to the slightest shift in the emotional weather in his characters and writes with absolute precision and compassion about their desires, vulnerabilities, failings, joys, and longings. His careful attention makes these very ordinary people extraordinary. His sentences are finely tuned, his language subtle and gorgeous."
Established in 2004, The Story Prize annually honors exemplary collections of short fiction. The prize includes $20,000, which is one of the largest first prize amounts of any U.S. book prize for fiction, and an engraved silver bowl.
Taylor's first novel, REAL LIFE, was shortlisted for the Booker Prize.
Congratulations to Mr. Taylor, his editor, Cal Morgan, and everyone at Riverhead.
Posted: April 15, 2022