Riverhead Author Bryan Washington Wins International Dylan Thomas Prize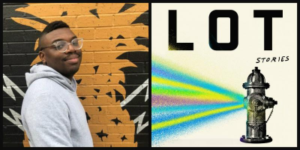 Bryan Washington won the Swansea University Dylan Thomas Prize for his debut short story collection, LOT (Riverhead), it was announced on Thursday, May 14.
Now in its fifteenth year, the International Dylan Thomas Prize, one of the UK's most prestigious literary awards, annually recognizes the "best published literary work in the English language, written by an author aged 39 or under" with a £30,000 prize.
Swansea University professor and chair of the judging panel, Dai Smith, said: "Bryan Washington's collection of short stories does what all great fiction does, finds a style that can open up a world that is otherwise unknowable and he does it with wit and grace. It is a real voice, unique, unforgettable, generous, and warm and one which provides us with a sense of community and the full experience of life. As one of the judges said he has a country and western kickass voice."
Bryan Washington commented: "It's a gift whenever an audience gives you the time of day for a story, whatever that is, let alone to be acknowledged for your work on such a massive platform. And it's an honor to tell stories about the communities that are dear to me, and the communities that I live among—marginalized communities, communities of color, and queer communities of color, specifically."
Our congratulations to Mr. Washington, his editor, Laura Perciasepe, and the entire Riverhead team.
Posted: May 18, 2020