Riverhead Author Danielle Evans is a Finalist for The Story Prize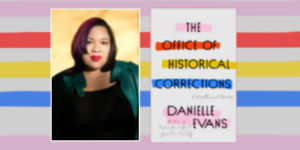 The Story Prize, which annually honors authors of outstanding short story collections released in the prior year, has announced its three finalists for 2020, including an author and book published by Penguin Random House:
THE OFFICE OF HISTORICAL CORRECTIONS by Danielle Evans (Riverhead Books)
Evans presents a collection of six stories and a novella that explore how race and gender, lies and truths, and denial and acceptance play out in personal lives and on a historical scale.
Now in its 17th year, The Story Prize received 121 submissions representing 89 different publishers or imprints. In place of its annual live reading and award event at The New School in Manhattan, The Story Prize will post a video online on March 10 consisting of short readings and interviews with each of the three finalists, as well as the announcement of the winner and acceptance of the award. The winning writer will receive $20,000 and an engraved silver bowl. The two runners-up will each receive $5,000.
To view the complete list of finalists for The Story Prize, honoring the best short story collections of 2020, click here.
Posted: January 29, 2021