Riverhead Author Shannon Pufahl Takes Us Inside Her Writing and World of ON SWIFT HORSES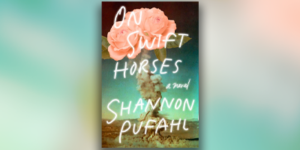 "At the Heyday Lounge the horsemen think they are the only gamblers. They file in each morning, their shoes dusty and their pockets jangling with coins, like parishioners." So begins Shannon Pufahl's powerful and moving, beautifully written debut novel, ON SWIFT HORSES, published by Riverhead Books today, Tuesday, November 5. Set in the burgeoning 1950s post-World War II West, shifting between San Diego, Las Vegas, and Tijuana, inside desert casinos, suburban racetracks, and transient dives, this is a story of love and luck, of two outsiders torn between the constraints of convention and the demands of their private selves, as they try to find their place in a country that is coming apart even as it promises them everything.
In this "Meet Our Author" interview, Pufahl reveals the origins behind the primary characters and main themes of her novel, shares insights into her approach to writing, and talks about what aspects of ON SWIFT HORSES she hopes will resonate with readers.
What was the inspiration for the primary characters and main themes in your debut novel?
When I was young, my grandmother often took me to Las Vegas, Laughlin, and other gambling meccas in Nevada. She taught me how to stand and look and dress so that I could gamble without being caught, since I was underage. We adored each other. She died the year I started this novel. One of the main characters, Muriel, is based on my grandmother, not biographically but temperamentally, and in spirit.
From the beginning, I was interested, thematically, in the relationship between progress, risk, and history. I also knew I wanted to write a novel about queer life before the civil rights movements of the 60s and 70s. It was clear very early that Las Vegas would be a primary setting, given these literary goals; in the 1950s Vegas was a fabulous, strange, and transitional place, a haven for misfits. Once I understood these things together – Muriel, themes of chance and history, Las Vegas – I knew I had the material and the inspiration to write a novel.
How would you describe your writing regimen?
Writing is mostly about dedication, continued engagement with the material, and trust. I believe all those things translate to the page and thus to the reader. I try to write every day. I sit down and attempt it, at least. That's the dedication part. The engagement part is trickier, and if I'm not into it, if I can't hear the prose or the characters, I walk away for the day. This is the trust part – I trust myself to sit down again the next day, and I trust that the prose and the characters will return to me.
Because I also believe in rest. This can be very difficult for writers, who feel they must be constantly writing. But one can't draw water from an empty well. So when I don't have the time or the mental acuity or the ear for writing, I try to gather and to learn – from experiences, other people, other writers, the natural world, my dog, my family. I try to be fully in the world. This is the kind of rest that is also work.
What elements of ON SWIFT HORSES do you think will resonate most strongly with readers?
I hope it's a very rich book, with much to offer many different kinds of readers. I think it will appeal to fans of Westerns and adventure stories, since there are several quests at the narrative's center, as well as horseracing, card cheats, and other scenes of gambling. It's also a love story, several love stories, really, all romantic but interesting and unconventional. The novel is historical and revisionist, set in the American West in the 1950s, so there are also details of time and place that I hope will surprise readers, about queer life at mid-century, atomic testing, urban change, and other depictions of more obscure aspects of that period. Mostly, I hope the prose itself is moving to readers, since style and lyricism were the primary forces I hoped to harness, in the writing of it.
Posted: November 5, 2019