Riverhead Celebrates Jacqueline Woodson's RED AT THE BONE at Weeksville Heritage Center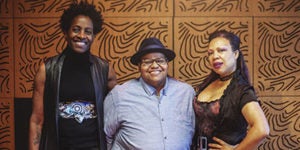 Riverhead Books hosted a magical evening in Brooklyn earlier this month to celebrate National Book Award-Winning author Jacqueline Woodson's stunning new adult novel, RED AT THE BONE, which will be published by Riverhead on September 17. The festivities were held at Weeksville Heritage Center, a historic house museum in Crown Heights dedicated to preserving the history of the 19th century African American community of what was known a century ago as Weeksville, Brooklyn—one of America's many free black communities. Four wood-frame homes from the 1860s still exist, and have been restored to reflect the different eras of Weeksville's history.
The village of Weeksville had one of the first African-American newspapers, the Freedman's Torchlight, its own churches, and a public school that became the first school in the United States to integrate its staff and its students. Weeksville has recently run into some financial trouble and are sadly at risk of closing their doors; Riverhead contributed $1,000 toward a fundraising campaign that was launched to save the space—they have already exceeded their initial goal, but there is still time to donate if you would like to help.
The center's rich history served as the perfect companion in celebrating the book which examines the influence of history on a contemporary African-American family. RED AT THE BONE spans many decades and many generations of two black families in Brooklyn; to honor that time span, renowned blues and folk musician Toshi Reagon performed songs from the 1920s, and '50s through '90s—the decades represented in the novel.
Media people from the New York Times, Marie Claire, CBS News, Vanity Fair, Trillist, and Time, as well as local booksellers were some of those in attendance. The night kicked off with custom cocktails created by one of NYC's top bartenders, Franky Marshall, served alongside food inspired by RED AT THE BONE
After some mingling, Jacqueline Woodson took the stage and performed a brief reading, while
Toshi Reagon continued to play softly under her prose.
It was truly a special evening and the perfect way to honor the launch of this emotionally rich, historically poignant novel to the world.
Posted: May 22, 2019