Riverhead Holiday Party Raises $3,300 for One Moore Book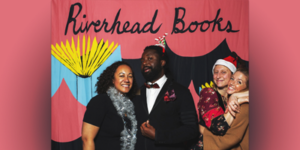 This year, Riverhead Books' annual holiday party raised a total of $3,300 for One Moore Book, a nonprofit that publishes children's books and promotes literacy in underrepresented cultures, founded by author Wayétu Moore. Guests from the media and publishing industry poured into Littlefield to enjoy a Riverhead Rumdeer, dance to holiday music, and enter a raffle to win an Alamo Drafthouse gift card, a challah baking class at Breads Bakery, products from skincare brand Skyn Iceland, wine from Le Grand Courtâge, and many other prizes generously donated by the party's sponsors.
Riverhead authors Elizabeth Gilbert, Marlon James, Meg Wolitzer, Emma Straub, Garrard Conley, Casey Gerald, Gilbert King, and Pitchaya Sudbanthad came prepared with homemade baked goods that they entered into the great publishing holiday party "bake-off." The winners were, amusingly, a tie between the two Gilberts. Gilbert King confessed that he outsourced the baking of his chocolate almond cookies to his daughter, while Elizabeth Gilbert thanked everyone for her victory in the "Nobel Prizes of Christmas cookies" by sharing her boozy rum balls recipe.
Posted: December 17, 2019