Riverhead Pop-Up Reading Room: "Read to Reinvent"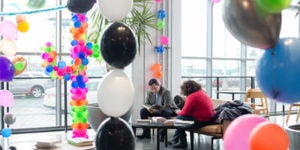 Last Friday, the Riverhead Pop-Up Reading Room took over lunch hour at the Brooklyn Navy Yard, a creative hub for over 400 businesses and 9,000 employees. The Pop-Up series, which in the past has centered around Caribbean Heritage Month and Banned Books Week, selected "Read to Reinvent" as the theme of this pop-up, with the goal of celebrating new ideas and playful creativity in the spirit of reinvention this New Year.
Befittingly, the pop-up featured whimsical, kaleidoscopic arrangements of larger-than-life balloon sculptures by the Brooklyn Balloon Company, inspired by each of Riverhead's summer titles, and a curated collection of "big idea" nonfiction books from bestselling Riverhead authors like Dan Pink, Steven Johnson, and Priya Parker.
Employees from CatBird, Russ & Daughters, Lafayette 148, Fidelity, and many others stopped by to find their next great read, get book recommendations from Riverhead staff, and enter giveaways to win Riverhead tote bags and signed books.
Posted: January 25, 2019