Riverhead Publishes 3 of 13 Man Booker International Prize Longlisted Titles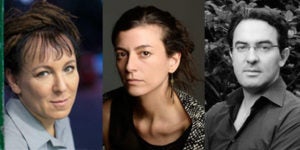 Last year, Riverhead Books published the winner of the Man Booker International Prize, FLIGHTS by Polish author Olga Tokarczuk. The Penguin Random House imprint may have another prize winner on its hands this year. The 2019 The Man Booker International Prize longlist has been announced, and of the 13 titles, three are currently published or forthcoming from Riverhead. Tokarczuk is back on the longlist with her new novel, DRIVE YOUR PLOW OVER THE BONES OF THE DEAD, forthcoming from Riverhead this August. Also on the longlist are two current Riverhead titles: MOUTHFUL OF BIRDS by rising Argentinian star Samanta Schweblin, and THE SHAPE OF RUINS by renowned Colombian writer Juan Gabriel Vásquez.
Congratulations and good luck to Ms. Tokarczuk, Ms. Schweblin and Mr. Vásquez, as well as their translators, and everyone at Riverhead.
To view the complete 2019 Man Booker International Prize longlist, click here.
Posted: March 15, 2019