Riverhead Sets Fundraising Record: $10,000 Raised for NYC Anti-Violence Project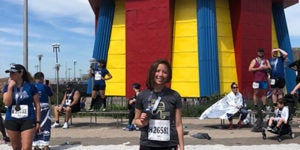 Team Riverhead Books ran in the Brooklyn Half Marathon on May 18 to support the New York City Anti-Violence Project. In less than two weeks, the team was able to raise over $10,000 for the nonprofit, breaking their own fundraising record.
Team member and designer Grace Han made limited edition Riverhead Books t-shirts for the fundraiser. The team was led by Associate Publicist May-Zhee Lim (pictured), and included Publisher Geoff Kloske, Grace Han, as well as Riverhead Alumni – and fastest runner – Paul Deykerhoff. It was a beautiful day for a run and many Penguin Random House employees were spotted supporting the team along the route to Coney Island.
Posted: May 23, 2019