Riverhead Table Serves BLACK LEOPARD, RED WOLF-Inspired Dishes, Author Marlon James Chats with Chef Evan Hanczor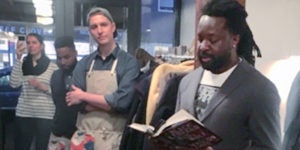 Riverhead Table took a dramatic turn last week, when award-winning chef Evan Hanczor created a 10-course meal inspired by Marlon James's New York Times-bestselling novel, BLACK LEOPARD, RED WOLF. Tickets to the event at Egg Restaurant in Williamsburg, Brooklyn were sold out, with an extensive waiting list. Appetizers included dates and spiced nuts in medieval pouches, followed by increasingly outlandish dishes: raw goat,
alligator, antelope, and more. A few guests assumed Chef Evan's menu descriptions were just metaphorical – this turned out to be wishful thinking.
As the courses wound down, guests enjoyed a conversation between Marlon and Chef Evan in which they discussed "literary allergies" and food imagery in the novel, among other topics. You'll get to read more about it later this month – and see more hair-raising food photos – when the event is featured in Grub Street.
Posted: March 29, 2019