Riverhead's Cal Morgan on Brandon Taylor's Powerful REAL LIFE Prose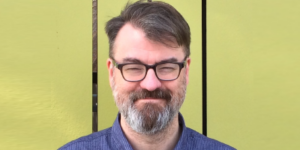 Brandon Taylor's REAL LIFE (Riverhead), a finalist for the 2020 Booker Prize, has earned universal praise. From The New York Times Book Review: "[A] stunning debut . . . Taylor proves himself to be a keen observer of the psychology of not just trauma, but its repercussions. . . . There is a delicacy in the details of working in a lab full of microbes and pipettes that dances across the pages like the feet of a Cunningham dancer: pure, precise poetry." From The New Yorker: "[Real Life is] a sophisticated character study of someone squaring self-preservation with a duty to tolerate people who threaten it. The book teems with passages of transfixing description, and perhaps its greatest asset is the force of Wallace's isolation, which Taylor conveys with alien strangeness." From author Colm Tóibín: "Real Life is a tender, deeply felt, perfectly paced novel about solitude and society, sexuality and race. It explores what the past means and, with brilliance and sympathy, dramatizes the intricacies of love and grief."
In this Three Questions for an Editor Igloo Interview, Cal Morgan, VP & Executive Editor, Riverhead Books, delves into the special nature of Brandon Taylor's writing style, how he worked with the author as REAL LIFE became a novel, and the powerful resonance of the book's protagonist, Wallace, "an emblematic character for his generation."
What do you find most engaging and special about Brandon's writing style and storytelling ability?
One of the things I most treasure in any writer's work is the ability to control how the reader experiences time – our feeling for the pace at which a story is unfolding. What's remarkable about Brandon's work is his knack for shifting, imperceptibly, from the crackling specificity of real-time conversation to the elastic, immeasurable evolution of a character's interior life. In the course of a dozen pages, he can make us feel we've witnessed both a single scene and a lifetime's worth of, well, real life.
How would you describe the editor/author process as manuscript became a finished book?
An utter pleasure. I learn from every author I work with, but with Brandon I am continually astonished: What starts as a question about a small, isolated passage – is this paragraph clear enough about what's happening? – is often answered by a wholesale reinvention of a scene or even a relationship, full of beautiful, searching prose returned almost overnight. With each new draft of Real Life, the book grew deeper, more purposeful, more devastating.
REAL LIFE presents characters and themes that leave lasting impressions. What elements of this book do you think will resonate most strongly with readers?
Wallace, I think, is emerging as an emblematic character for his generation: hardened yet vulnerable, naturally introverted yet yearning to be seen and acknowledged. The moments in the book when his carefully guarded silence is broken – first fractured, then shattered – hit us so hard because we feel them so deeply ourselves.
Posted: November 2, 2020