Riverhead's Lesley Nneka Arimah Named Artist of the Year by Minneapolis Star Tribune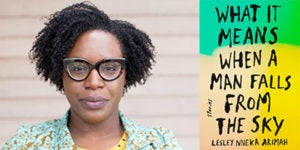 Lesley Nneka Arimah, author of WHAT IT MEANS WHEN A MAN FALLS FROM THE SKY (Riverhead), was recently named the Minneapolis Star Tribune's 2017 Artist of the Year.  In an admiring announcement article titled "Lesley Nneka Arimah: A Wordsmith Who Spins Magic," the Star Tribune provides a comprehensive overview of Arimah's career, sprinkled with high praise throughout, including quotes from Riverhead Editorial Director Becky Saletan, National Book Foundation President Lisa Lucas and fellow Riverhead author Meg Wolitzer. 
Noting that this debut short story collection "lit up the world of books like a shooting star" and that Arimah is "at the forefront of … some of the most original and interesting fiction and poetry being published today," the glowing feature celebrates the author as a pioneer in not only Minneapolis's literary community, but in the artistic one at large.
This recognition caps a terrific year for the author, in which she was awarded the Kirkus Prize for Fiction for WHAT IT MEANS WHEN A MAN FALLS FROM THE SKY and she was selected as one of the National Book Foundation's "5 Under 35" honorees.
Read the complete Minneapolis Star Tribune feature on Lesley Nneka Arimah here.
Posted: January 11, 2018