Riverhead's Sarah McGrath on Gabriel Tallent's Remarkable Debut and a Girl Named Turtle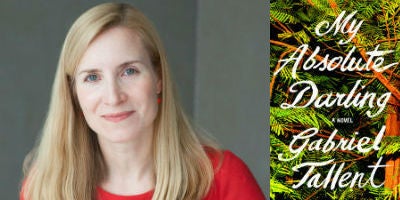 In this Three Questions for an Editor interview with Sarah McGrath, Vice President, Editor in Chief, Riverhead Books, she shares insights into gifted debut author Gabriel Tallent and his exceptional debut novel, MY ABSOLUTE DARLING, which goes on sale from Riverhead today.  At Book Expo 2017,  Sarah was on the Adult Editors Buzz panel, and told a packed room that this novel "will be held in readers' hearts for generations and renew your faith in the transformative power of reading," then quoted from an e-mail she received from Stephen King:  "The word 'masterpiece' has been cheapened by too many blurbs, but MY ABSOLUTE DARLING absolutely is one."   
In this brilliant, immersive, all-consuming read set in the wilds of the northern California coast, 14-year-old Turtle Alveston emerges as one of the most unforgettable characters in modern literary fiction.  In advance reading copies of MY ABSOLUTE DARLING, Sarah wrote, in part, "As Turtle fights for her own soul through acts of physical and emotional courage, we watch, heart in throat, as she struggles to become her own hero – and in the process becomes ours as well. There is darkness along the way, but ultimately this is a survival story with a heart-wrenching redemptive arc.  A love story, in more ways than one."
How did you discover Gabriel Tallent and what were your initial impressions of him and his writing?
I first read the manuscript in November 2015 when it came to me from his agent. I was struck immediately both by the writing – the shocking, thrilling originality of the language – and by the magnetism of the main character, a girl who was at once so fierce and so vulnerable that I wanted only to spend as much time with her as possible, to track her experiences and survival.  I disappeared into the story and I'm still not sure if I ever fully surfaced.
What was involved in the editor/author process as MY ABSOLUTE DARLING went from manuscript to book form?
Gabriel was inspiring to work with. He approached the edit with an incredible focus and intensity, engaging deeply with every question and suggestion I threw his way, even when he didn't agree. It led us into some wonderfully involved discussions and explorations. I enjoyed every minute of it.
What is it about this book that resonates so strongly with readers?
It's Turtle, I think. The language is breath-taking; the wilderness is written with such beauty and power that it becomes a character itself; but the thing that I think grabs readers' hearts from the very beginning and never lets go is the novel's protagonist, Turtle. She is so real, so herself, so unusual, that you know, as a reader, that you're going to be changed just by knowing her.
Posted: August 29, 2017