Riverhead's Sarah McGrath Talks About Liz Moore's "Riveting and Moving" NYT Bestselling Novel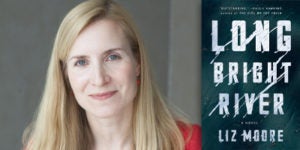 LONG BRIGHT RIVER by Liz Moore, published by Riverhead Books last month, was an instant New York Times bestseller and has received rave reviews that called the book "powerful" (Wall Street Journal), "outstanding" (Associated Press), "electrifying" (O, The Oprah Magazine), and "genre-defying" (People).
At the heart of LONG BRIGHT RIVER are two sisters who occupy the exact same Philadelphia neighborhood, but lead drastically different lives: one is a police officer, while the other suffers from heroin addiction and lives on the streets. Once inseparable, they haven't spoken for years, but when women start being murdered in the area and one sister goes missing, the other must risk everything to figure out what happened and to save her sister.
LONG BRIGHT RIVER was chosen as the inaugural book for the new New York Times Book Review's "Group Text" Book Club column, saying "[Moore's] careful balance of the hard-bitten with the heartfelt is what elevates Long Bright River from entertaining page-turner to a book that makes you want to call someone you love." It was also chosen as Good Morning America's January book club pick. After announcing the selection, GMA filmed a beautiful interview with Liz. To watch the segment, click here.
In this Three Questions for an Editor interview, Sarah McGrath, VP & Editor in Chief, Riverhead Books, talks about her initial impressions of the book in manuscript form, working with the author during the editorial process, and what readers she feels will enjoy this novel.
What were your first impressions when reading the manuscript of LONG BRIGHT RIVER?
LONG BRIGHT RIVER is the perfect literary page-turner. It's a brilliantly plotted crime novel, yes, but equally powerful and crucial to the story is its emotional heart: the family drama set against the opioid epidemic. It's both riveting and moving, with a deep pleasure that comes from the tautness of the plot, the intelligence of the narrative, and the humanity Moore brings to her characters.
What was the editing process like with Liz and how did you balance the strong powerful writing with the more commercial arena of crime fiction and police procedural?
Liz has had a lot of prior success with more traditional literary fiction. While the plot of LONG BRIGHT RIVER reaches more clearly into the thriller or police procedural category, her writing is just as clear and agile and affecting as ever, and that's one of the things I fell in love with as a reader. The balance was there organically.
Who do you think will enjoy reading this book and why?
To me the readership spans at least 3 categories. It's for readers of riveting family dramas – readers of Celeste Ng or Mary Beth Keane. It's for readers of thrillers and police procedurals, especially those with a domestic focus and a powerful sense of place – readers of Tana French or Dennis Lehane or Paula Hawkins. And it's for readers moved by a compassionate look at a difficult contemporary issues – readers of Beth Macy's Dopesick, for instance. Many fans and reviewers have said that it's a genre-defying book for anyone who wants to be reminded how much their family matters to them. Does it sound like I'm saying it's a book for everyone? Maybe it is.
Posted: February 4, 2020