Riverhead's THE FRIEND by Sigrid Nunez 2018 NBA Fiction Winner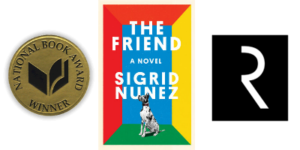 We celebrate THE FRIEND by Sigrid Nunez, published by Riverhead, chosen by the panel of five judges from 368 submissions, as the recipient of the 2018 National Book Award for Fiction, announced this evening at the annual National Book Foundation dinner in downtown Manhattan.
Tonight's recognition is the sixth straight year in which at least one Penguin Random House title has been honored with a National Book Award—and the fifth time in the past six years that a work published by a Penguin Random House imprint has been cited by the category's judges as the NBA Fiction winner.
Among those in the 700-plus audience cheering our author's award were Markus Dohle, Madeline McIntosh, publishers, editors, and sales executives from across Penguin Random House, and Bertelsmann senior executives, including Chairman and CEO Thomas Rabe.
THE FRIEND by Sigrid Nunez
(Riverhead Books hardcover & E-book; Penguin Audio; Penguin Random House Canada distribution)
Sigrid Nunez's previous literary honors include a Whiting Writer's Award, and two awards from the American Academy of Arts and Letters. THE FRIEND, which The Wall Street Journal praised as "a beautiful book… crammed with a world of insight into death, grief, art, and love," is a story about loss, and the unanticipated ways in which we find healing. When a writer unexpectedly loses her lifelong best friend and mentor, she finds herself burdened with the enormous Great Dane he has left behind. The joys and suffering they experience together help form their loyal, unbreakable bond.
Accepting her award from the podium, Sigrid Nunez offered "my heartfelt gratitude" to her Riverhead publishing team, including Publisher Geoff Kloske and her editor Sarah McGrath, as well as Jynne Martin and Glory Anne Plata.
During the first half of the ceremony, Vintage Español and Penguin Random House Grupo Editorial author Isabel Allende drew two standing ovations, upon receiving the 2018 Medal for Distinguished Contribution to American Letters, previously bestowed upon John Updike, Toni Morrison, and Stephen King, and for her lovely acceptance remarks. The recipient of many international cultural honors, Ms. Allende is the bestselling author writing in Spanish today. An immigrant in the U.S. for thirty years, who told the audience she is proud to be an American citizen, Allende is the first Spanish-language DCAL honoree.
In addition to our congratulations to our Riverhead colleagues—whose books have won an NBA two years in a row—we also salute the authors and publishers of our 2018 fourteen Longlist and five Shortlist NBA nominees, along with the semi-finalists and finalists published by our Penguin Random House Publisher Services clients.
And a final, joyful shout-out to Elizabeth Acevedo, an alumna of the Penguin Random House Creative Writing Awards, who is the winner of this year's NBA for Young People's Literature.
We could not be more proud of all of them.
Posted: November 15, 2018