Robert A. Caro Receives 2016 Medal for Distinguished Contribution to American Letters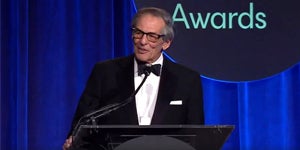 At its annual National Book Awards ceremony dinner Wednesday night in downtown Manhattan, the National Book Foundation bestowed this year's Medal for Distinguished Contribution to American Letters upon Robert A. Caro. The Knopf/Vintage author of The Years of Lyndon Johnson biographies and THE POWER BROKER previously has been honored with two Pulitzer Prizes, a National Book Award, three National Book Critics Circle Awards, and the National Humanities Medal, presented by President Obama in 2010.
This award is given annually to an author who has enriched our literary heritage over a lifetime of achievement.Throughout his illustrious career, Mr. Caro has demonstrated the power of biography to illuminate not just individuals but also the societies they influence and shape.
Renowned librarian and educator Dr. William P. Kelly introduced Mr. Caro as "the greatest biographer of our time—and one might argue of all time."  The Medal, he said, honors the recipient as "biographer, historian and journalist, and for his contribution to American letters…His passion for getting the story right is the stuff of legend," adding that the author's "narrative power derives from getting the language right."
Mr. Caro, gracious and modest, followed his standing ovation from the 700 dinner guests by observing that "one particularly nice aspect" of receiving this lifetime achievement award was the opportunity of "remembering experiences from [his] lifetime."
Our author affectionately praised his editor Bob Gottlieb and Knopf Managing Editor, Kathy Hourigan, who both have worked editorially with him on all his books since 1972, "44 years." He acknowledged "another big part of my life is Sonny Mehta. It has meant a lot to have Sonny with me, "noting that after he first reads the new work in manuscript, Knopf's Chairman and Editor in Chief unfailing "always picks out the things I want readers to get out of my book."
Mr. Caro recognized Knopf Production head Andy Hughes—"who is most responsible, long though they are, that my books are beautiful;"—and Tony Chirico, Anne Messitte, Paul Bogaards, Nicholas Latimer, and Russell Perreault, "not only friends, but friends of decades."
Mr. Caro, whose biography of Lyndon Johnson has grown from three to four and now five eagerly anticipated volumes, expressed his further gratitude that, "Never once has anyone at Knopf ever asked me when I was going to finish my book."
Mr. Caro concluded: "This award has made me remember a life, and that has been a great gift for me," leaving the podium to a second standing ovation.
Posted: November 17, 2016