Robert B. Reich to Discuss THE SYSTEM via Zoom (8/20)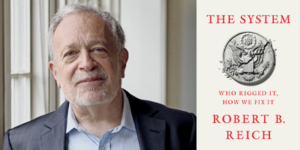 Robert B. Reich, author of THE SYSTEM (Knopf), will engage in a virtual event hosted by Politics & Prose via Zoom on Thursday, August 20 at 6:00pm (ET).  
THE SYSTEM is an urgent analysis of how the "rigged" systems of American politics and power operate, how this status quo came to be, and how average citizens can enact change.
Robert B. Reich is Chancellor's Professor of Public Policy at the Goldman School of Public Policy at the University of California, Berkeley. He has served in three national administrations and has written fifteen books, including The Work of Nations, which has been translated into twenty-two languages, and the bestsellers The Common Good, Saving Capitalism, Supercapitalism, and Locked in the Cabinet. His articles have appeared in The New Yorker, The Atlantic, The New York Times, The Washington Post, and The Wall Street Journal, and he writes a weekly column for The Guardian and Newsweek. He is co-creator of the award-winning film Inequality for All, and the Netflix original Saving Capitalism, and co-founder of Inequality Media.
!! As a reminder, if you are posting to a personal or other non-PRH account you must include the hashtag #TeamPRH !! 
Posted: August 18, 2020