Robert Jones, Jr. In Conversation with Brit Bennett via Crowdcast (1/12)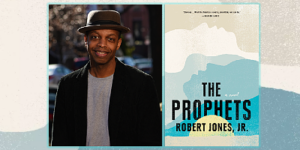 Robert Jones, Jr., author THE PROPHETS (Putnam), will discuss his debut novel with Brit Bennett, author of THE VANISHING HALF (Riverhead), at a virtual event hosted by Charis Books via Crowdcast on Tuesday, January 12 at 7:30 pm (ET).
This stunning debut novel is about the forbidden union between two enslaved young men on a Deep South plantation, the refuge they find in eachother, and a betrayal that threatens their existence. Edmund White's starred Publishers Weekly review raved, "The lyricism of THE PROPHETS will recall the prose of James Baldwin … a masterpiece." Entertainment Weekly calls the book "a new kind of epic…A grand achievement…While THE PROPHETS' dreamy realism recalls the work of Toni Morrison…its penetrating focus on social dynamics stands out more singularly."
Robert Jones, Jr., was born and raised in New York City. He received his BFA in creative writing with honors and MFA in fiction from Brooklyn College. He has written for numerous publications, including The New York Times, Essence, OkayAfrica, The Feminist Wire, and The Grio. He is the creator of the social justice social media community "Son of Baldwin" (Facebook / IG / Twitter). . Jones was recently featured in T Magazine's cover story, "Black Male Writers of Our Time" and the subject of an expansive profile in The New York Times.
!! As a reminder, if you are posting to a personal or other non-PRH account you must include the hashtag #TeamPRH !!
Posted: January 9, 2021