Robert Kolker and Dani Shapiro Share Family Secrets via Zoom (1/27)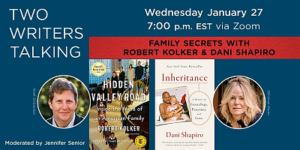 Two Writers Talking: Robert Kolker, author of HIDDEN VALLEY ROAD (Doubleday), Dani Shapiro, author of INHERITANCE (Vintage), discuss "family secrets" at a virtual event moderated by Jennifer Senior via Zoom on Wednesday, Janaury 27 at 7:00pm (ET).
Kolker's HIDDEN VALLEY ROAD is the heartrending story of a midcentury American family with twelve children, six of them diagnosed with schizophrenia,that became science's great hope in the quest to understand the disease. With clarity and compassion, this book uncovers one family's unforgettable legacy of suffering, love, and hope.
Shapiro's INHERITANCE is about the staggering family secret uncovered by a genealogy test. An exploration of the urgent ethical questions surrounding fertility treatments and DNA testing, and a profound inquiry of paternity, identity, and love.
Robert Kolker is the New York Times bestselling author of Lost Girls, named one of the New York Times 100 Notable Books and one of Publishers Weekly's Top Ten Books of 2014. As a journalist, his work has appeared in New York magazine, Bloomberg Businessweek, The New York Times Magazine, Wired, GQ, and Men's Journal. He is a recipient of the Harry Frank Guggenheim 2011 Excellence in Criminal Justice Reporting Award from the John Jay College of Criminal Justice in New York.
DANI SHAPIRO is the author of the New York Times bestselling memoir INHERITANCE, as well as HOURGLASS, STILL WRITING, DEVOTION, and SLOW MOTION and five novels including BLACK & WHITE and FAMILY HISTORY. Also an essayist and a journalist, Shapiro's short fiction, essays, and journalistic pieces have appeared in The New Yorker, Granta, Tin House, One Story, Elle, Vogue, O, The Oprah Magazine, The New York Times Book Review, the op-ed pages of The New York Times, and many other publications. She has taught in the writing programs at Columbia, NYU, the New School, and Wesleyan University; she is cofounder of the Sirenland Writers Conference in Positano, Italy. In 2019, she launched the hit podcast "Family Secrets," which has now been downloaded more than 16 million times. She lives with her family in Litchfield County, Connecticut.
Jennifer Senior has been an Op-Ed columnist at The New York Times since September 2018. She had been a daily book critic for The Times; before that, she spent many years as a staff writer for New York magazine, doing profiles and cover stories about politics, social science and mental health.
!! As a reminder, if you are posting to a personal or other non-PRH account you must include the hashtag #TeamPRH !!
Posted: January 25, 2021