Robert Kolker Discusses HIDDEN VALLEY ROAD on Zoom and Twitter (4/8)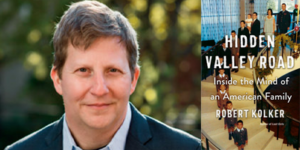 Books Are Magic presents Robert Kolker, author of HIDDEN VALLEY ROAD (Doubleday), in conversation with fellow author Susannah Cahalan on Zoom and Twitter on Wednesday, April 8, at 7:00pm (EDT).
HIDDEN VALLEY ROAD is the heartrending story of a midcentury American family with twelve children, six of them diagnosed with schizophrenia, that became science's great hope in the quest to understand the disease. With clarity and compassion, this book uncovers one family's unforgettable legacy of suffering, love, and hope.
Robert Kolker is the New York Times bestselling author of Lost Girls, named one of the New York Times 100 Notable Books and one of Publishers Weekly's Top Ten Books of 2014. As a journalist, his work has appeared in New York magazine, Bloomberg Businessweek, The New York Times Magazine, Wired, GQ, and Men's Journal. He is a recipient of the Harry Frank Guggenheim 2011 Excellence in Criminal Justice Reporting Award from the John Jay College of Criminal Justice in New York.
!!As a reminder, if you are posting to a personal or other non-PRH account you must include the hashtag #TeamPRH. !!
Posted: April 7, 2020