Robert M. Gates in Conversation with Dallas World Affairs Council CEO Jim Falk via Zoom (6/18)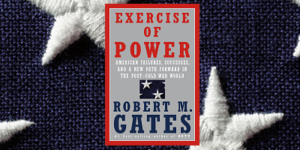 Robert M. Gates, author of EXERCISE OF POWER, (Knopf), will be in conversation with Jim Falk, CEO of the Dallas World Affairs Council, via Zoom on Thursday, June 18 at 5:00pm (ET).
From the former secretary of defense and author of the acclaimed #1 best-selling memoir, Duty, comes EXERCISE OF POWER, a candid, sweeping examination of power in all its manifestations, and how it has been exercised, for good and bad, by American presidents in the post-Cold War world.
Since the end of the Cold War, the global perception of the United States has progressively morphed from dominant international leader to disorganized entity, seemingly unwilling to accept the mantle of leadership or unable to govern itself effectively. Robert Gates argues that this transformation is the result of the failure of political leaders to understand the complexity of American power, its expansiveness, and its limitations. He makes clear that the successful exercise of power is not limited to the use of military might or the ability to coerce or demand submission, but must encompass as well diplomacy, economics, strategic communications, development assistance, intelligence, technology, ideology, and cyber. By analyzing specific challenges faced by the American government in the post-Cold War period–Iran, Iraq, Afghanistan, North Korea, Syria, Libya, Russia, China, and others–Gates deconstructs the ways in which leaders have used the instruments of power available to them. With forthright judgments of the performance of past presidents and their senior-most advisers, firsthand knowledge, and insider stories, Gates argues that U.S. national security in the future will require learning, and abiding by, the lessons of the past, and re-creating those capabilities that the misuse of power has cost the nation.
Gates served as secretary of defense under presidents George W. Bush and Barack Obama. He was an officer in the United States Air Force and worked for the CIA before being appointed director of the agency. A member of the National Security Council staff in four administrations, he served eight presidents of both political parties. He was president of Texas A&M University from 2002 to 2006, is currently chancellor of the College of William & Mary, was national president of the Boy Scouts of America from 2014 to 2016, and has served on several corporate boards of directors. In 2018 he became chairman of Eisenhower Fellowships. He lives in Washington state.
!! As a reminder, if you are a PRH employee posting to a personal or other non-PRH account, you must include the hashtag #TeamPRH !! 
Posted: June 16, 2020