Robo Time Travel: Daniel H. Wilson Unveils THE CLOCKWORK DYNASTY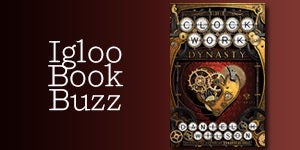 This week's Igloo Book Buzz selection, Daniel H. Wilson's THE CLOCKWORK DYNASTY, on sale from Doubleday on Tuesday, August 1, is a summer read for the ages – all of them. This ingenious new thriller weaves a path through time, following a race of human-like machines that have been hiding among us for untold centuries.   
Mr. Wilson, whose previous novels include ROBOGENSIS, AMPED and ROBOPOCALYPSE, reveals, "In THE CLOCKWORK DYNASTY the robot characters interpret their lives through the shifting context of humanity, fulfilling their purpose differently as they fall through the ages of human history. I think it's similar to how people find meaning differently as we age. How the avtomat choose to interpret their purpose determines whether they are heroes or villains, whether they live or die, and whether they find themselves surrounded by allies or enemies."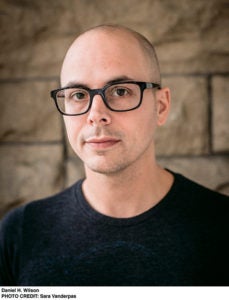 The national buzz surrounding this book's release has been tremendous, with fellow Penguin Random House author Ernest Cline (of READY PLAYER ONE fame) among its most fervent fans: "THE CLOCKWORK DYNASTY is my new favorite secret history novel!  It's like some fantastic hybrid of Highlander and The Terminator–or maybe a cross between I, Robot and The Difference Engine, with a dash of Blade Runner for good measure. It reads like classic steampunk on steroids. In other words, it's totally bad ass and you're going to love it."
Here is a brief look at the THE CLOCKWORK DYNASTY storyline:
Present day: When a young anthropologist specializing in ancient technology uncovers a terrible secret concealed in the workings of a three-hundred-year-old mechanical doll, she is thrown into a hidden world that lurks just under the surface of our own. With her career and her life at stake, June Stefanov will ally with a remarkable traveler who exposes her to a reality she never imagined, as they embark on an around-the-world adventure and discover breathtaking secrets of the past…
Russia, 1725: In the depths of the Kremlin, the tsar's loyal mechanician brings to life two astonishingly human-like mechanical beings. Peter and Elena are a brother and sister fallen out of time, possessed with uncanny power, and destined to serve great empires. Struggling to blend into pre-Victorian society, they are pulled into a legendary war that has raged for centuries.
As June plunges deeper into a race of beings designed to live by ironclad principles, yet constantly searching for meaning, her choices will ultimately determine their survival or extermination.
Posted: July 31, 2017