Rodale Books is New Publishing Partner for Gwyneth Paltrow's Lifestyle Brand goop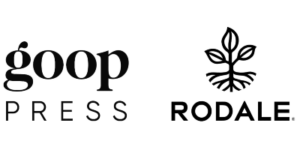 Rodale Books, an imprint of Random House, is the new publishing partner for goop Press, the book imprint of goop, the modern lifestyle brand founded and helmed by Gwyneth Paltrow. The announcement was made today by Diana Baroni, SVP and Editor in Chief, Harmony Books and Rodale Books.
Originally launched in 2015, goop Press was previously an imprint at Hachette under Grand Central Publishing's Life & Style imprint, which was disbanded in 2018. With this new publishing partnership with Rodale Books, the goop Press imprint will release a curated list of two or three new books per year by prominent experts and emerging leaders with distinct voices and compelling perspectives on physical, emotional, spiritual, and relational well-being. Authors will include standouts from goop's community, along with talent discovered and sourced by goop's editors and the Rodale Books editorial team.
The inaugural list of goop Press books includes: Intuitive Fasting by bestselling author and functional medicine expert Dr. Will Cole, which will be released on February 23, 2021, with a foreword by Paltrow; an untitled relationship book by internationally recognized therapist and New York Times bestselling author Terry Real; and a healthy eating guide and cookbook by registered dietitian and rising star Maya Feller.
"I've always admired the voices goop showcases on their site," said Baroni, "and was thrilled at the opportunity to launch a new publishing partnership with them. Rodale Books and goop are aligned in our approach to enhancing personal wellness and improving the lives of our readers. I'm excited to be able to collaborate with them to publish books that will help people on their journey."
"At goop, we're incredibly fortunate to work with a diverse, extraordinary group of scientists, healers, teachers, and boundary pushers who are leaders in their fields – from nutrition to business to sexual health to activism and intuition," says Kiki Koroshetz, wellness director on goop's editorial team. "We also love meeting the people who might not be household names yet, but who we believe will change the world. And one of the best parts of supporting these leaders is helping them to share their ideas with readers. We're very happy to be able to do that with the Rodale Books team and the whole Penguin Random House engine behind it."
Dr. Will Cole's Intuitive Fasting, the first book to be published by the imprint, offers a new approach to understanding your body's cues and eating for both satisfaction and restoration. Cole illustrates the most effective ways to fast and which foods to eat when, to amplify the health benefits of intermittent fasting. The book has already been endorsed by MD's such as Mark Hyman, Frank Lipman, and David Perlmutter. Said Paltrow, "It's full of what Cole has learned about reducing inflammation, restoring balance, recharging metabolism, and resetting gut health." Intuitive Fasting will prove to be a ground-breaking addition to the healthy eating shelves.
Posted: November 10, 2020