Ron Rash Launches His New Story Collection and Novella via Zoom (8/4)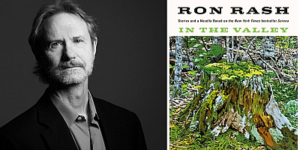 Ron Rash is launching his new book, IN THE VALLEY: Stories and a Novella Based on Serena (Doubleday), at a virtual event hosted by Malaprops Bookstore (Ashville, TN) via Zoom on Tuesday, August 4 at 6:00 pm (ET).
A revered presence in the landscape of American letters, Ron Rash is virtuosic novelist, poet, and story writer. IN THE VALLEY's ten stories spin a haunting allegory of the times we live in–rampant capitalism, the severing of ties to the natural world in the relentless hunt for profit, the destruction of body and soul with pills meant to mute our pain–and yet within this world Rash illuminates acts of extraordinary decency and heroism. This book also includes the return of the villainess who propelled Serena to national acclaim, in a long-awaited novella.
Mr. Rash is the author of the PEN/Faulkner finalist and New York Times bestselling novel Serena, in addition to the critically acclaimed novels The Risen, Above the Waterfall, The Cove, One Foot in Eden, Saints at the River, and The World Made Straight; four collections of poems; and six collections of stories, among them Burning Bright, which won the 2010 Frank O'Connor International Short Story Award, Nothing Gold Can Stay, a New York Times bestseller, and Chemistry and Other Stories, which was a finalist for the 2007 PEN/Faulkner Award. Twice the recipient of the O. Henry Prize and winner of the 2019 Sidney Lanier Prize for Southern Literature, he is the Parris Distinguished Professor in Appalachian Cultural Studies at Western Carolina University and lives in Clemson, SC.
!!As a reminder, if you are posting to a personal or other non-PRH account you must include the hashtag #TeamPRH. !!
Posted: July 31, 2020