Rosa Brooks Presents "TANGLED UP IN BLUE: Policing the American City" via Zoom (2/17)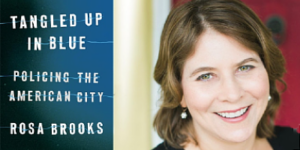 Rosa Brooks speaks about her new book, TANGLED UP IN BLUE: Policing the American City (Penguin Press), with Joel Rosenthal of the Carnegie Council Zoom on Wednesday, February 17 at 6:00 pm (ET).
In TANGLED UP IN BLUE, Brooks recounts her experiences inside the usually closed world of policing. From street shootings and domestic violence calls to the behind-the-scenes police work during Donald Trump's 2016 presidential inauguration, Brooks presents a revelatory account of what it's like inside the "blue wall of silence." She issues an urgent call for new laws and institutions, and argues that in a nation increasingly divided by race, class, ethnicity, geography, and ideology, a truly transformative approach to policing requires us to move beyond sound bites, slogans, and stereotypes. An explosive and groundbreaking investigation,TANGLED UP IN BLUE complicates matters rather than simplifies them, and gives pause both to those who think police can do no wrong—and those who think they can do no right.
Rosa Brooks is a law professor at Georgetown University and founder of Georgetown's Innovative Policing Program. From 2016 to 2020, she served as a reserve police officer with the Washington, DC, Metropolitan Police Department. She has worked previously at the Defense Department, the State Department, and for several international human rights organizations. Her articles and essays have appeared in The New York Times, The Washington Post, The Atlantic, and The Wall Street Journal, and she spent four years as a weekly opinion columnist for The Los Angeles Times and another four as a columnist for Foreign Policy. Her most recent book, How Everything Became War and the Military Became Everything, was a New York Times Notable Book of 2016; it was also shortlisted for the Lionel Gelber Prize and named one of the five best books of the year by the Council on Foreign Relations.
!! As a reminder, if you are posting to a personal or other non-PRH account you must include the hashtag #TeamPRH !!
Posted: February 11, 2021