RSVP and Cast Your Votes for The First-Ever All Ways Black Awards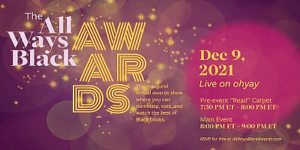 To celebrate all of the labor and love that Bookstagrammers, authors, and readers have shared this year, the Consumer Marketing team invites you to join Cree Myles, curator of All Ways Black, for the first-ever All Ways Black Awards on Thursday, December 9 from 8 – 9 pm ET (virtual doors open at 7:30 pm ET).
Building on the success of @AllWaysBlack on Instagram, which has gained over 23,000 followers since its launch in June 2021, these critics choice awards will celebrate community-nominated achievements by Black bookstagrammers and authors in a mix of dignified and fun categories—from Bookstagrammer of the Year to Book of the Year to Most Original Social Content and many more in between.
Our live awards ceremony will be hosted in a fully customized, interactive virtual space on Ohyay, featuring photo booths, a shoppable bookstore sponsored by Source Booksellers, and more. We'll be joined by authors Ayana Gray, Robert Jones, Jr., Vallery Lomas, Jasmine Mans, Maurice Carlos Ruffin, Danté Stewart, & Nic Stone, and bloggers Jamise Harper (@spinesandvines) & Traci Thomas (host of The Stacks podcast) to announce the winners—plus we'll have a live musical performance by two-time Grammy-winning vocalist Jaime Woods!
Public voting will be open through this Friday, December 3, so be sure to vote here for your favorite nominees in each of our categories.
You can RSVP HERE to join us for the official celebration on Thursday, December 9 – we can't wait to see you there!
Posted: December 2, 2021