RSVP for a New York Book Forum Event Featuring Knopf's Victoria Wilson in Conversation with Jane Friedman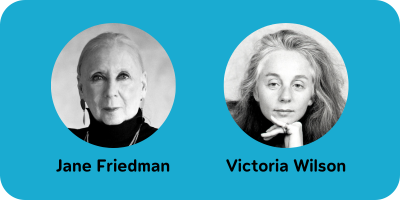 On Wednesday, May 24 from 6 PM to 8 PM ET, join New York Book Forum in-person for a major cultural evening — A Story of Evolution: On Writing, Editing, Publishing, and Breaking the Glass of Expectations featuring Jane Friedman and Victoria Wilson. JANE FRIEDMAN transformed a major company, and started a new venture that revolutionized digital publishing. Vicky Wilson, VP & Executive Editor at Alfred A. Knopf is an acclaimed editor and publisher, and has written a major cultural biography, with the concluding volume now in progress. 
We'll hear these leading voices in American publishing discuss their experience, expertise, adventures, and vision of what lies ahead in books, business, and life. Light refreshments will be served. Limited space is available! RSVP is required.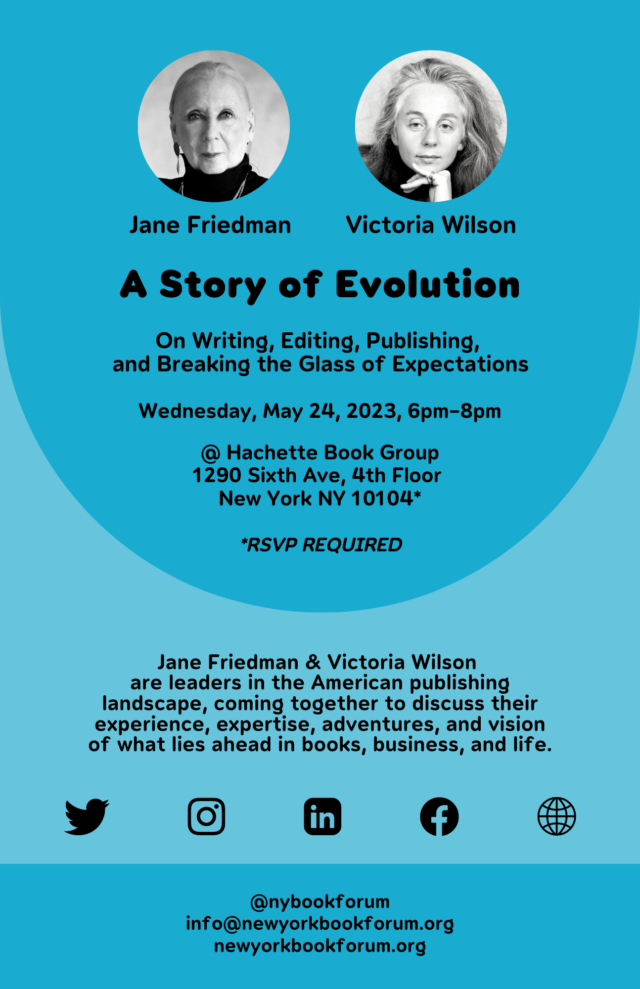 Event Details:
Wednesday, May 24, 6 PM – 8 PM ET
Location: Hachette Book Group, 1290 Sixth Ave, 4th Floor, New York NY 10104
RSVP here.
About New York Book Forum
New York Book Forum (NYBF) is dedicated to building bridges between the entire book publishing world and the public with an emphasis on the importance of reading and promoting literacy. Learn more at newyorkbookforum.org 
Follow New York book Forum on social media!  
Facebook: facebook.com/nybookforum  
Instagram: @nybookforum  
Twitter: @nybookforum
 
Posted: May 11, 2023