RSVP to Enjoy Brightly Storytime LIVE: Season's Readings!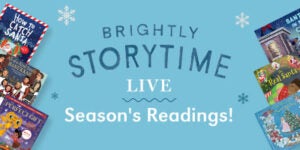 Tune in for some festive fun at the next installment of the Brightly Storytime LIVE Series from Consumer Marketing on Saturday, December 11 from 1:00 – 2:00 pm ET. Following a frightfully fun October event that featured sweetly scary stories and over 60 little readers taking part in our first-ever virtual costume parade, we're excited to end the year with a seasonal celebration of heartwarming stories and a wintry draw-along activity!
We'll begin the event with a series of readings from:
As little ones listen to these cozy stories, our series host Ms. Linda will encourage them to use a provided exclusive coloring sheet from our downloadable event activity packet to create a picture of their favorite parts of winter. We'll then end the event by inviting these little artists up to the virtual "stage" to showcase their creative masterpieces in a Winter Art Show. Attendees can either volunteer to participate in this segment or can stay to view their fellow readers' creations as we continue to build connections within the Brightly community.
Register here to join us on Saturday and spread the word across your channels. Use #TeamPRH if you're posting on a personal account.
Posted: December 9, 2021