RuPaul to Narrate New Audiobook with Instagram Star Tiny Chef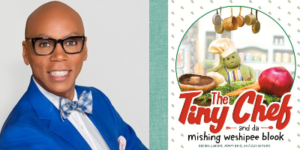 Emmy Award-winning RuPaul's Drag Race creator and host RuPaul teamed up with Instagram's Tiny Chef to narrate the audiobook of the Chef's debut children's book, THE TINY CHEF: AND DA MISHING WESHIPEE BLOOK, on sale from Listening Library on September 15, when it will also be released in hardcover and eBook by Penguin Young Readers imprint Razorbill.
The Tiny Chef is a tiny herbivore who cooks up tiny delicacies from his tiny kitchen for over 600,000 followers on his not-so-tiny cooking show – but when his recipe book goes missing, he has to get creative and come up with something new.
RuPaul and the Chef were introduced by mutual friend Kristen Bell.
Tiny Chef comments: "Moognesh me im shtill en blabsholute shock Wu wead da blook wif me. blits twuwy a dweam come twu and I can neber fank my fwend Kweesten Blell enuf fo makin et blappen."
RuPaul and the Chef spent an afternoon in the recording studio together, and a number of their takes are featured on this special audiobook. There is a reading with both RuPaul and the Chef, and a recording of the Chef reading all by himself. RuPaul also shares the Chef's very own Blegaful Shew recipe – with help from the Chef himself, of course.
To download a free preview of THE TINY CHEF: AND DA MISHING WESHIPEE BLOOK audiobook, click here.
Posted: September 2, 2020