Ruta Sepetys' SALT TO THE SEA Wins CILIP Carnegie Medal for Best Children's Writing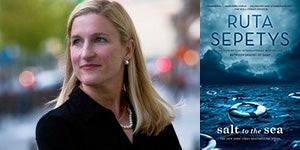 Penguin Young Readers author Ruta Sepetys has won the 2017 CILIP Carnegie Medal, one of the UK's most prestigious children's literary awards, for her novel SALT TO THE SEA (Philomel Books/Puffin), a fictionalized account of the sinking of German ocean liner the Wilhelm Gustloff in 1945.  
Of SALT TO THE SEA, the judges said that "not one of us knew about this real-life disaster and it shows how history is skewed towards the victor." They added: "[The book] has been selected because of the powerful, crafted language, the tight, carefully shaped plot and the range of moods evoked throughout."
Ms. Sepetys told The Guardian: "When I interviewed people during my research, some told me not to bother with the book, that the world had forgotten them. The interest in the novel confirms that through characters and story, historical statistics become human and suddenly we care for those we've never met. My work sits on the shoulders of nonfiction, memoir and testimony. If a reader is interested in my novels, it's my hope that they will feel compelled to research the facts behind the fiction."
The CILIP (Chartered Institute of Library and Information Professionals) Carnegie Medal is annually awarded by UK children's librarians for an outstanding book written in English for children and young people and published in the prior year,
Congratulations to Ms. Sepetys as well as her editor and publisher.
Posted: June 19, 2017