Ryan Walsh Uncovers the Mysteries Behind the Birth of Van Morrison's Masterpiece in 1968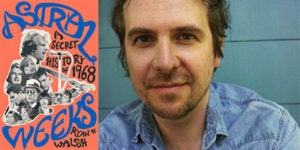 Van Morrison's Astral Weeks is an iconic rock album shrouded in legend that has touched generations of listeners (the record topping many personal "Desert Island" music lists) and influenced everyone from Bruce Springsteen to Martin Scorsese.  ASTRAL WEEKS: A Secret History of 1968 (Penguin Press), the first book by musician/ journalist Ryan H. Walsh, unearths the album's fascinating backstory and takes a mind-expanding deep dive into a lost chapter of Boston, circa 1968, featuring both the famous and the forgotten, including Van Morrison himself, folkie-turned-cult-leader Mel Lyman, Timothy Leary, the Velvet Underground, Andy Warhol, Peter Wolf, and James Brown.  
In this Behind the Pages interview, Walsh reveals what sparked the creation and writing of ASTRAL WEEKS as well as how this book may resonate with readers in 2018.
What was the genesis of ASTRAL WEEKS and the vision that it could become a book?
This book started out with me searching out for some comfort via music. I was 22, heartbroken, lonely, and I stumbled upon the record in a store. Something about the cover and title told me to buy it. That led to a curiosity about its origins, which surprisingly led to my own backyard here in Boston.  Boston magazine gave me the go-ahead to write a piece about it, which led to Ed Park at Penguin Press reaching out to me and asking, "Could this be a book?"
During the writing process, how did you go about assembling the myriad characters and researching the stories as well as sub-plots that you wove together so masterfully in telling the tale of the making of this iconic Van Morrison album and the many intersecting worlds in Boston, circa 1968?
I set rules for myself: all stories had to have an anchor point in Boston during the year 1968. They could go to other cities and years, but some vital part of each person and story had to exist inside of those parameters. Secondly, I was looking for stories about people striving for something spiritual or mystical in music and other pursuits. I was also looking for stories that bled the reality between creativity and real life.  So many people in the book were questioning themselves and the world around them: Is this real? Am I real? Is this a genuine moment? 
What elements of your book do you think will resonate most strongly with readers here in 2018?
People often say that 1968 in the USA was a year in which the country seemed hell bent on tearing itself apart. It seems to me that could end up being a sentence that applies to 2018 too, sadly. But mostly, I think that the stories in the book are universal, human stories. You don't have to love Van Morrison or be familiar with Boston to enjoy this. You just have to love a good tale told in front of a campfire.
Photo of author Ryan H. Walsh courtesy of Marissa Nadler.
Posted: March 9, 2018