Sally Rooney Wins Encore Award for NORMAL PEOPLE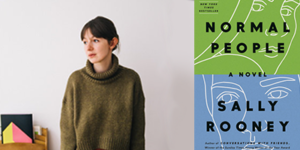 Sally Rooney has won the Royal Society of Literature's £10,000 (about $12,590) Encore Award for best second novel of the year for NORMAL PEOPLE (Hogarth). The Royal Society of Literature, founded in 1820, is a UK charity dedicated to the advancement of literature. The 2019 judges are RSL Fellows Edmund Gordon, Nikita Lalwani and Eley Williams.
Mr. Gordon called the novel "an instant classic" that is "written with great intelligence, maturity, and sureness of touch." Ms. Lalwani praised NORMAL PEOPLE as "a fearless, indelible excavation of the politics of desire" and a "triumph of ambition and rightfully a classic for our times"; and Williams observed that the "book's genius perhaps lies in the way assumptions or assertions of powerfulness and powerlessness–their erotic charge as well as their banality–can shape a person or the courses of lives."
Sally Rooney was born in County Mayo, Ireland, and presently lives in Dublin. Her writing has appeared in The New Yorker, The New York Times, The London Review of Books, and elsewhere. The followup to her acclaimed first novel CONVERSATIONS WITH FRIENDS, NORMAL PEOPLE previously won the Costa Novel of the Year in 2019 and was longlisted for the Man Booker Prize in 2018 as well as the Women's Prize for Fiction and the Rathbones Folio Prize in 2019.
Congratulations to Ms. Rooney and everyone at Hogarth who contributed to the success of NORMAL PEOPLE.
Posted: June 20, 2019