Sam Sifton Introduces His New Cookbook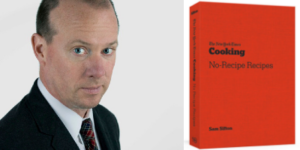 A special message from Sam Sifton: Good morning, good afternoon, good evening, all. I'm excited to introduce you to my new book, a collaboration between The New York Times Cooking and the publisher Ten Speed Press: THE NEW YORK TIMES COOKING NO-RECIPE RECIPES. It's a collection of 100 prompts for improvisation in the kitchen, along with tips and observations to aid you in this new style of cooking, one that is entirely your own.
You may have come across some of these no-recipes before, if you happen to subscribe to "What to Cook," my newsletter for NYT Cooking. I've been writing them every Wednesday since 2015, mostly as a chance to celebrate the way so many of us actually cook, riffing on what ingredients we have. They were notes from my house to yours, ideas for dishes more than developed instructions for them: scallops painted with white miso thinned with mirin, say. Broil those or grill them, then scatter some chopped scallions over the top, with a sprinkle of sesame seeds, and serve with rice. You don't need a recipe for that. You just make the food you see in your head when you read the words and see the big, beautiful photographs from the team of David Malosh and Simon Andrews.
More examples: Weeknight Fried Rice, Amatriciana On the Fly, and Pressure Cooker Chicken Tacos.
Cooking those may well change how you cook forever. It did for me. How I cooked, before no-recipe recipes: I'd shop for every meal. I'd leave the office in the evening and stroll to the market to pick up whatever I needed to make whatever recipe I had chosen to make, and I'd use those ingredients to cook my meal.
This felt very Parisian, but really all I was doing was assembling meal kits. I was starting from scratch each time. Now I stock my larder with alliums and beans, with lots of cured meats and different sorts of rice and pasta, with stocks and cheeses and oils, canned fish, various sugars, lots of spices and herbs, fresh and dried, and of course with loads of condiments: hot sauces and capers and chutneys and pickles and vinegars. This pantry is at the very heart of no-recipe cooking.
Actual recipes are great, of course. We built NYT Cooking on a foundation of 20,000 of them. But I've been thrilled to see over the years how readers react to these more informal no-recipe recipes, with their casual, unceremonious instructions for a vernacular cuisine. They've told me it's freeing, to be unbound from the need to be exact, to be encouraged to follow their instincts, truly to taste as they go. I hope this book is one that will bring them – and you – great joy.
One of the other things I do in the "What to Cook" newsletters is to tell you what brings me great joy – not just recipes, but cookbooks and novels, poems and pieces of music, television series and wonderous strange corners of the Internet.
Lately that's included Sufjan Stevens's haunting song "Tell Me You Love Me" and S. A. Cosby's electrifying novel "Blacktop Wasteland." I've spent hours inside the South Korean police procedural "Signal," and thrilled to my colleague Jason Farago's "Close Reads" series in The Times: art criticism that is also art history, and deeply important.
I discovered a clip of the guitarist Nile Rodgers telling the story of how he arranged "Let's Dance" for David Bowie. It's amazing. (Here's how the song turned out, on the Serious Moonlight tour in 1983.) I found a deeply satisfying police report in the Brainerd Dispatch of Minnesota. I travel every day via the terrific Window Swap.
But mostly I cook. Sometimes that's with recipes. Often times, increasingly, it's not. I hope you'll give "No-Recipe Recipes" a shot, and either way that you'll come visit me at NYT Cooking. Thanks for reading.
Posted: March 16, 2021