Sandford, THE CHALK MAN 2019 ThrillerFest Honorees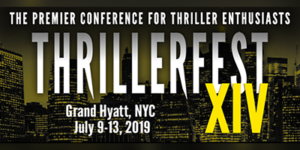 John Sandford, the beloved #1 bestselling Putnam author of more than thirty novels in the respective series featuring relentless law-enforcement officials Lucas Davenport (Prey) and Virgil Flowers, was honored as the 2019 ThrillerMaster at the International Thriller Writers (ITW) July 13 closing ceremony, concluding the 14th annual five-day ThrillerFest Convention in Manhattan. Earlier that Saturday, Sandford sat for a rare and revealing interview, conducted by his long-time editor, now-retired Putnam Associate Publisher and Editor in Chief Neil Nyren.
Also at the event, the ITW's Best First Novel Award was bestowed upon C.J. Tudor's THE CHALK MAN (Crown/Broadway). The book previously won the Strand Magazine Debut Novel Award, and is a favorite of such thriller practitioners as Stephen King ("Want to read something good? If you like my stuff, you'll like this.") and Lee Child.
Click here for a complete list of ThrillerFest 2019 award winners.
This year's ThrillerFest drew editors, fans and authors from around the world, among them, THE COUPLE NEXT DOOR and A STRANGER IN THE HOUSE bestselling writer Shari Lapena, whose next novel, SOMEONE WE KNOW, is to be published by Pamela Dorman/Viking and Doubleday Canada on July 30. Lapena is pictured at the ThrillerFest banquet with award-winning actress Judith Light (Who's the Boss?, Law & Order: SVU).
The 2020 ThrillerMaster: our Diana Gabaldon (the OUTLANDER series)
Posted: July 16, 2019