Sarah Chayes Presents ON CORRUPTION IN AMERICA via Crowdcast (8/13)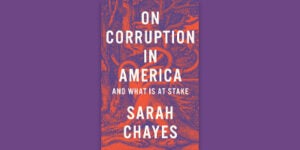 Sarah Chayes, author of ON CORRUPTION IN AMERICA (Knopf), will be in conversation with Zephyr Teachout followed by audience Q&A at a virtual event hosted by Porter Square Books via Crowdcast on Thursday, August 13 at 7:00 pm (ET). 
Bringing to bear all of her knowledge, grasp, sense of history and observation, Sarah Chayes writes in her new book, that the United States is showing signs similar to some of the most corrupt countries in the world. Corruption, as Chayes sees it, is an operating system of sophisticated networks in which government officials, key private-sector interests, and out-and-out criminals interweave. Their main objective: not to serve the public but to maximize returns for network members.
ON CORRUPTION IN AMERICA shows how corrupt systems are organized, how they enforce the rules so their crimes are covered legally, how they are overlooked and downplayed–shrugged off with a roll of the eyes–by the richer and better educated, how they become an overt principle determining the shape of our government, affecting all levels of society.
Sarah Chayes has served as special assistant on corruption to Mike Mullen, former chairman of the Joint Chiefs of Staff, as well as having advised David McKiernan and Stanley McChrystal (commanders of the International Security Assistant Force). She has been a reporter for National Public Radio from Paris, covering Europe and the Balkans. Chayes is the author of The Punishment of Virtue: Inside Afghanistan After the Taliban and Thieves of State: Why Corruption Threatens Global Security, winner of the 2016 Los Angeles Times Book Prize.
!! As a reminder, if you are posting to a personal or other non-PRH account you must include the hashtag #TeamPRH !! 
Posted: August 12, 2020