Sarah Pinsker Wins Nebula Award for Best Novel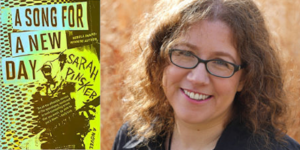 Berkley author Sarah Pinsker received the Nebula Award for Best Novel for A SONG FOR A NEW DAY (published by Berkley in September 2019). The award was presented to Pinsker by award-winning author Charlie Jane Anders at the 55th Annual Nebula Award Ceremony via Virtual Reality on Friday, May 30. To see the full list of award winners, click here.
The Nebula Awards are voted on and presented by the Science Fiction and Fantasy Writers of America. The ceremony was live-streamed on YouTube and can be watched here.
Pinsker's A SONG FOR A NEW DAY unfolds after a global pandemic makes public gatherings illegal and concerts impossible, except for those willing to break the law for the love of music—and for one chance at human connection.
Posted: June 8, 2020