Sarah Urist Green Hosts a "You Are an Artist" Discussion on YouTube Livestream (4/17)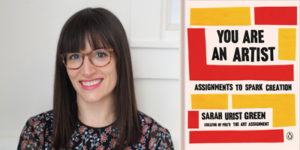 Sarah Urist Green, author of YOU ARE AN ARTIST: Assignments to Spark Creation (Penguin Books), hosts a "You Are an Artist" discussion about journeys of creation with author John Green, musician Stuart Hyatt, and artist Gina Beavers via YouTube Livestream on Friday, April 17, at 8:00pm (ET).
Ms. Green left her office in the basement of an art museum to travel and visit a diverse range of artists, asking them to share prompts that relate to their own ways of working. The result is YOU ARE AN ARTIST, a journey of creation through which you'll invent imaginary friends, sort books, declare a cause, construct a landscape, find your band, and become someone else (or at least try). Your challenge is to filter these assignments through the lens of your own experience and make art that reflects the world as you see it.
She is also the creator, curator, and host of The Art Assignment, an educational video series produced in partnership with PBS Digital Studios that focuses on the creative process and the act of making.
!!A reminder for PRH employees: If you are posting this article to a personal or other non-PRH account you must include the hashtag #TeamPRH.!!
Posted: April 16, 2020