Sarah Urist Green In Conversation with John Green via Crowdcast (5/15)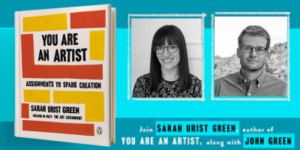 Sarah Urist Green, author of YOU ARE AN ARTIST: Assignments to Spark Creation (Penguin Books), will be in conversation with Penguin Young Readers author John Green, and participating artists Stuart Hyatt and Molly Springfield, for a Politics & Prose Live virtual event via Crowdcast on Friday, May 15 at 7:00pm (ET).
Sarah Urist Green left her office in the basement of an art museum to travel and visit a diverse range of artists, asking them to share prompts that relate to their own ways of working. The result is YOU ARE AN ARTIST, a journey of creation through which you'll invent imaginary friends, sort books, declare a cause, construct a landscape, find your band, and become someone else (or at least try). Your challenge is to filter these assignments through the lens of your own experience and make art that reflects the world as you see it.
John Green is the New York Times bestselling author of such books as The Fault in Our Stars, Looking for Alaska, and Turtles All the Way Down. He is one half of the vlogbrothers on YouTube and co-creator of educational series Crash Course.
Molly Springfield's text-based drawings have been exhibited widely, including in the permanent collections of the Whitney Museum of American Art and the Metropolitan Museum of Art, as well as in several anthologies.
Stuart Hyatt is a Grammy-nominated artist and musician whose work turns audio field recordings into music that tells evocative stories about marginalized communities.
!! As a reminder, if you are a PRH employee posting to a personal or other non-PRH account, you must include the hashtag #TeamPRH !! 
Posted: May 14, 2020