Saumya Dave In Conversation with Patricia Park via Zoom (7/14)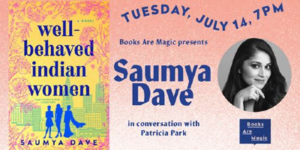 Saumya Dave, author of the debut novel, WELL-BEHAVED INDIAN WOMEN (Berkley), will be in conversation with Penguin author Patricia Park (Re Jane), in a Books Are Magic virtual event via Zoom on Tuesday, July 14 at 7:00 pm (ET).
From a new voice in women's fiction comes a compelling literary debut, WELL-BEHAVED INDIAN WOMEN, a mother-daughter story about three generations of women who struggle to define themselves as they pursue their dreams.
Saumya Dave is a psychiatrist and mental health advocate. Her essays, articles, and poetry have been featured in The New York Times, ABC News, Refinery29, and other publications. She is the co-founder of thisisforHER, a nonprofit at the nexus of art and women's mental health, and an adjunct professor at Mount Sinai, where she teaches a Narrative Medicine class. She recently completed her Psychiatry Residency at Mount Sinai Beth Israel, where she was a chief resident and an inductee into the AΩA Medical Honors Society. She currently resides in New York City with her husband and son. This is her first novel.
Patricia Park is the author of the novel Re Jane, a modern-day retelling of Brontë's Jane Eyre, and Assistant Professor of Creative Writing at American University. She has written for The New York Times, New Yorker, Guardian, and others. A former Fulbright scholar, Edith Wharton Writer-in-Residence, and Jerome Hill fellow, Park is at work on her next novel about the Korean community in Argentina during the Dirty War.
!! As a reminder, if you are posting to a personal or other non-PRH account you must include the hashtag #TeamPRH !!
Posted: July 13, 2020