Save the Children's 100 Days of Reading Bus Tour Hits the Road This Summer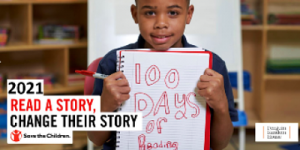 Last month, Penguin Random House partnered with Save the Children for their annual 100 Days of Reading campaign. PRH will donate 50,000 children's books in addition to providing content for their online library. Throughout the summer, Save the Children will share tips and activities to help keep kids active and learning. Every click on the library of activities on their website, or engagement through daily activities posted to their Instagram page, results in donations of books, educational material, and healthy meals to the children who need them most.
Save the Children recently announced the official launch of the 100 Days of Reading Bus Tour, which started on July 10 in San Francisco and will bring summer learning, fun activities, and essential resources to help kids in need prepare for the upcoming school year. This is an exciting component of the national campaign that in 2020 brought learning resources and fun to families impacted by the pandemic as part of their partnership with T.J. Maxx and Kinder. Last year, the tour was hosted in Chicago and Boston and ultimately set the stage for the expansion and vision they are rolling out this year. You can view the press release here and virtually meet dynamic Tour Manager and official bus driver, Chrissy Morgan.
This year, SC Johnson and Nickelodeon are also supporting the 10-city tour. Stops include Los Angeles; New Orleans; Atlanta; Nashville; Charlotte and Stanley, NC; Bay City, MI; Racine, WI; Chicago; and Boston. The bus is filled with new backpacks loaded with supplies and learning materials as well as four dynamic activities to promote literacy and STEAM education. Gifts and support of school supplies were donated by Mattel, along with a free subscription to online children's books from Vooks.
Posted: July 16, 2021