Save the Children's 100 Days of Reading Campaign Logs More Than 100 Million Minutes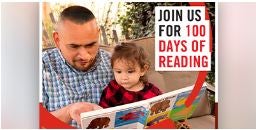 Penguin Random House and Brightly partnered to support Save the Children's second annual READ A STORY, CHANGE THEIR STORY, 100 Days of Reading campaign this past summer. The campaign exceeded Save the Children's 100 million minutes logged goal, and raised more than $4.5 million in-kind and financial gifts, a 200% increase from last year. To further enhance our impact, PRH also partnered with zulily, to help provide books to children in need across the nation with a summertime "Buy 1, Give 1" campaign.
Books and early learning resources were delivered to children in Save the Children's U.S. programs who were in critical need of them to mitigate learning loss during this unprecedented time.
The 100 Days of Reading campaign was created to keep kids learning over the summer months and to get books and educational materials into the hands of young people who have none. This year, the campaign encouraged all children, parents, teachers, librarians, caregivers and adults to log their summer reading minutes. through September 8th.
To learn more about this campaign, take a look at the video below:
Posted: October 29, 2020