SAVE THE DATE: UJA 2021 Publishing Awards Virtual Celebration on Thursday, June 24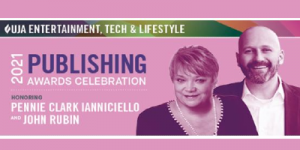 The UJA-Federation of New York presents its annual Publishing Awards Celebration virtually on Thursday, June 24, beginning at 6:00 pm (ET). Save the date. This year, it's easier than ever to attend; and everyone gets a front-row seat.
UJA is honoring Pennie Clark Ianniciello, Costco, and John Rubin, Above the Treeline, Inc., for their professional and philanthropic leadership, and to pay tribute to UJA's lifesaving work in response to COVID-19.
Bestselling author Lisa Scottoline, published by G.P. Putnam's Sons, a division of Penguin Publishing Group, will be among the guest speakers.
Please click here to RSVP. You'll be sent your unique access link in advance of the event.
Penguin Random House is a longtime partner of the UJA-Federation of New York and is proud to support their works with a network of hundreds of nonprofits, UJA extends its reach from New York to Israel to nearly 70 other countries around the world, touching the lives of 4.5 million people each year. To date, UJA has allocated nearly $67 million to help respond to the devastating impact of the coronavirus pandemic. Aid has supported New Yorkers facing food insecurity, UJA partner organizations providing essential health and human services to New Yorkers, Jewish Community Centers, low-income students, single parents, and ensuring dignified Jewish burials. You can learn more about UJA's vital COVID recovery efforts here. If you'd like to make a gift to support UJA's impactful work, please click here.
Posted: June 15, 2021